Book Chip Simmons as an inspirational speaker at your next event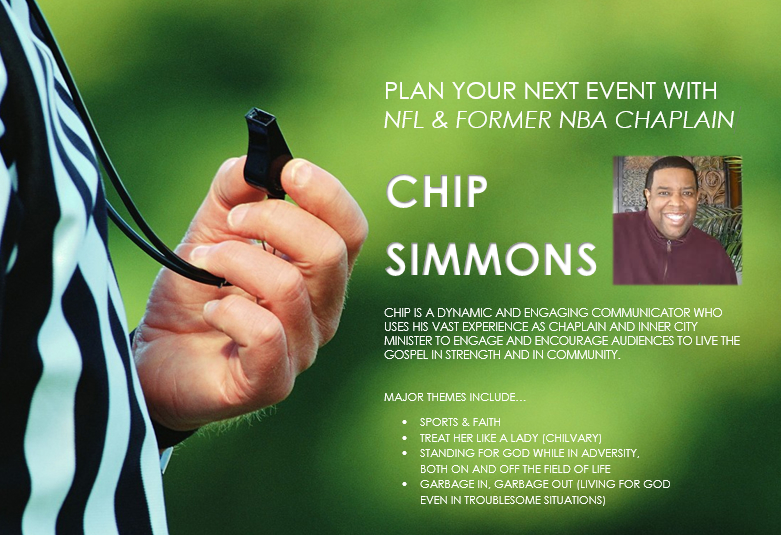 Born and raised in inner-city Philadelphia, Chip Simmons has served as Denver Broncos Chaplain for the last 4 years, proactively investing in players, players' families and Broncos staff through weekly chapels, Bible studies, prayer and spiritual guidance. Chip's passion for reaching young people in the urban setting has culminated with his passion for sports, and his enthusiastic zest for life is infectious.
Along with the Broncos, Chip has also served as chaplain for the Philadelphia 76ers, Philadelphia Eagles and the Colorado Crush Football Team; Urban Director for Philadelphia FCA, and later Denver FCA; Phillies Baseball; and College Ministry Leader, Colorado School of Mines.
Chip has also led chapels for the San Diego Chargers, as well as many college teams including: Temple University, College of William and Mary, Bowling Green State University, University of Nebraska, Western State Colorado University and the University of Colorado, Boulder.
Chip is the founder of After the Game Ministries which gives former athletes the tools and support needed to manage the game of life beyond the playing field through Bible studies, mentorship and discipleship. Learn more at https://afterthegameministries.org/ or contact ATG Speaking Engagement Officer Julie Hill to learn more about bringing Chip to your next event!